New documents leaked to Axios reveal the disturbing projected totals of migrants expected to cross the border in the coming months, with officials within the Biden administration predicting the surge to increase from 16,000 unaccompanied migrant children crossing the border in the month of March to potentially 26,000 per month by September.
The projected September total would represent a more than 100 percent increase from the current record of unaccompanied migrant children encountered in any given month, when 11,475 crossed in May 2019. 
The new documents also indicate how much the surge has ramped up in recent weeks, as just a month ago the number of children expected to cross the border in May was an already high 13,000. Now, anywhere between 22,000 and 25,000 children - nearly twice as many - are expected to cross the border that month alone.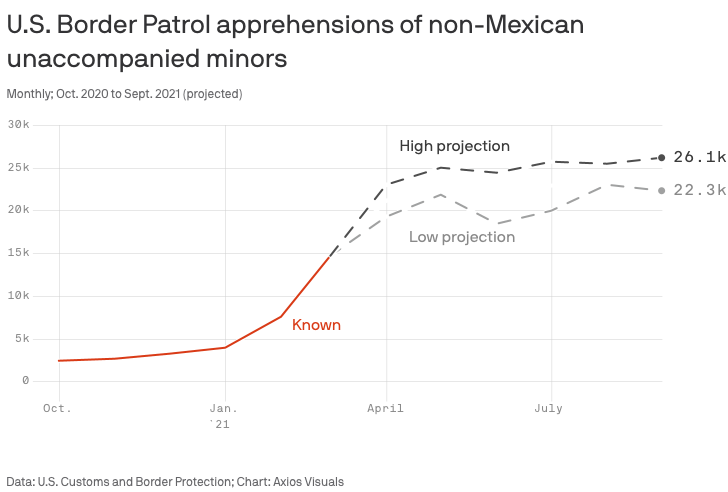 President Biden continues to try to normalize the crisis despite its obvious severity, describing it as a yearly seasonal occurrence despite the projection of record monthly totals for the next 7+ months. 
RELATED: Sen. Ted Cruz Films Human Smugglers Taunting Border Patrol Across the Southwest Border
As the Biden administration attempts to essentially desensitize the public on the issue, migrant children are suffering under cramped living conditions in border facilities as COVID-19 runs rampant in the overcrowded holding spaces, and the problem is only going to get worse. According to Axios,
The documents also show the U.S. Department of Health and Human Services has an immediate need for an extra 6,000 shelter beds. That would allow it to house the migrant kids already in government custody while remaining at a targeted cap of 90% capacity...It will need an additional 34,000 beds in September to prevent kids waiting in unfit border patrol stations, if projections hold. The agency could have more than 53,000 kids in custody that month.
The total of unaccompanied migrant children projected to cross the border this fiscal year is between 159,000 and 184,000. In addition, according to the Washington Post, the Department of Homeland Security estimates that 500,000-800,000 migrants will cross the border in family groups this fiscal year. 
On Sunday, despite President Biden's pledge to be transparent on the issue during his first presidential press conference, Senator Ted Cruz (R-Texas) was blocked by a Biden administration senior advisor while attempting to film the unacceptable living conditions within a migrant holding facility.
How far is Joe Biden going to stop the American people from seeing inside the Donna CBP facility?

Biden sent a political operative from DC to block our cameras and even threatened another senator to obstruct legitimate congressional oversight. pic.twitter.com/vHT2U7Nh1z

— Ted Cruz (@tedcruz) March 28, 2021