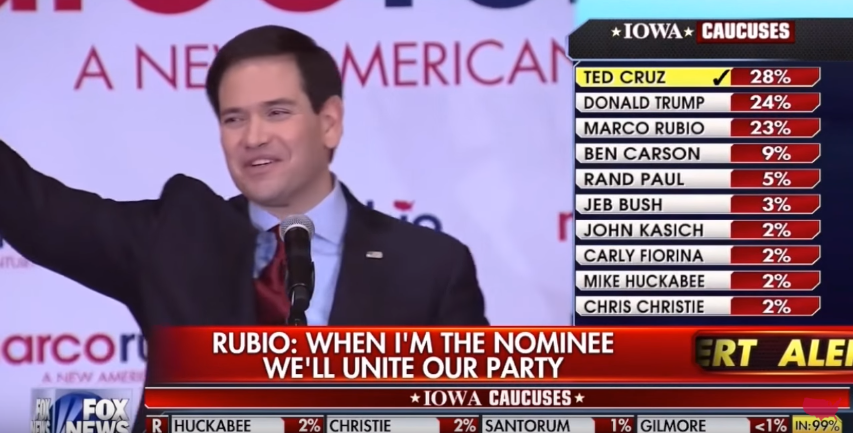 Image via Screenshot
Sen. Marco Rubio (R-Fla.) took third place in the Iowa Republican caucuses Monday, behind fellow GOP contenders Donald Trump and Sen. Ted Cruz (R-Tex.).
Rubio was in visibly high spirits at his Iowa caucus party in Des Moines after the results came in, saying that he and his campaign had officially proved the doubters wrong.  
"This is the moment they said would never happen," said the Florida senator. "For months, they told us we had no chance… For months they told us because we didn't have the right endorsements or the right political connections, we had no chance. They told me that we had no chance because my hair wasn't grey enough and my boots were too high."
"They told me I needed to wait my turn and I needed to wait in line," he went on. "But tonight, here in Iowa, the people of this great state have sent a very clear message. After seven years of Barack Obama, we are not waiting any longer to take our country back."
Rubio added that he is grateful to his supporters for believing in him and his message.
Listen to his full remarks in the video clip below.
Trump did not take his second-place finish as gracefully. He tweeted that the media treated him unfairly and implied that he only lost because he spent less time in the state of Iowa than his rivals. 
He later added that the voters are to blame for not giving him "any credit" for self-funding his campaign.
Classy.