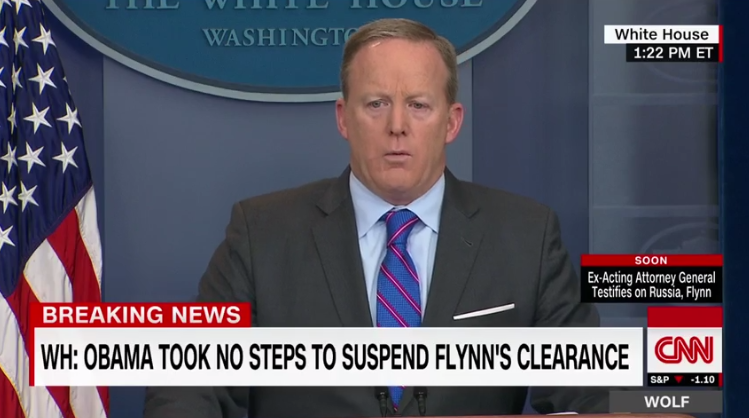 (Image via Screenshot)
Former acting attorney general Sally Yates who reportedly warned the White House that former National Security Adviser Michael Flynn was "compromised," will testify on Monday at a congressional hearing on Russian interference in the 2016 election.
White House press secretary Sean Spicer said during Monday's briefing that in addition to its questions about what Yates knew about Flynn, the Senate Committee on the Judiciary, Subcommittee on Crime and Terrorism, should ask her how classified information about Flynn's conversations with Russian ambassador Sergey Kislyak was leaked to the press. 
"The idea that classified information made its way into the press is something that I think – while we're asking all these questions – is one of the ones the senators should ask: how did that information get out into the open like that," said Spicer.
"That is an equally important question that frankly isn't getting asked," he said.
President Trump tweeted Monday morning that the senators should ask Yates "if she knows how classified information got into the newspapers soon after she explained it to W.H. Counsel," implying that she was somehow involved in the leak or knew who gave the classified information to the press.
Thank you for supporting MRCTV! As a tax-deductible, charitable organization, we rely on the support of our readers to keep us running! Keep MRCTV going with your gift here!