Failed Democratic Georgia gubernatorial candidate Stacey Abrams is firing back at critics who bashed her for sitting in a crowded room full of masked schoolchildren with nothing on her own face but a big toothy grin while attending a reading event at a local elementary school in honor of Black History Month.
Here's the photo that landed Abrams in a heap of trouble on social media, showing her surrounded by kids who are forced to wear face masks per a local ordinance while she sits there freely breathing her own potentially COVID-infested air all over the place.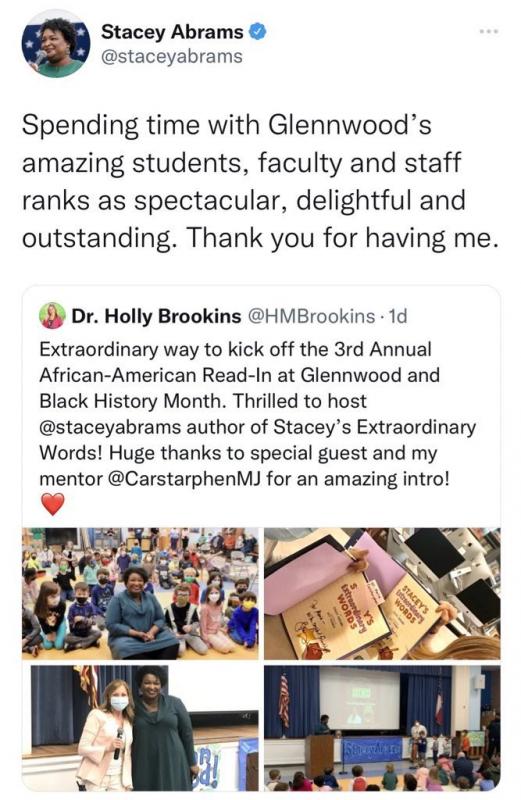 But, as we've all figured out by now, the only thing Abrams truly avoids like the plague is taking responsibility for anything.
"It is shameful that our opponents are using a Black History Month reading event for Georgia children as the impetus for a false political attack, and it is pitiful and predictable that our opponents continue to look for opportunities to distract from their failed records when it comes to protecting public health during the pandemic," she rambled on Instagram.
None of which addresses the fact that Abrams, who has supported masking in schools, felt a different set of face diaper rules applied to her. And none of which acknowledges the fact that both the school principal's tweet with Abrams' maskless photos - and Abram's retweet of them - have since been deleted.
Abrams joins a long – and yet, still growing – list of hypocritical mask-for-thee Democrats who've gotten caught ignoring the COVID diktats they've set in place for all us peasants. California Governor Gavin Newsom, Los Angeles Mayor Eric Garcetti and San Francisco Mayor London Breed were all recently caught at a LA Rams game sans mask despite LA Democrats having implemented a rule that everyone attending a sporting event slap a (likely ineffective) piece of cloth over their own nose and mouth just to be permitted in the door.
But apparently COVID doesn't spread if you're eating or drinking, or if you're a sanctimonious Democrat taking a photo with Magic Johnson or some helpless schoolchildren.