Randi Weingarten, president of America's second-largest teachers union and one of the brilliant minds behind the near-nationwide school shutdown over COVID, was caught actively retweeting fake news this week when she blasted out a list of books she claimed had been banned in Florida public schools.
There's just one problem: they hadn't.
Weingarten, who leads the American Federation of Teachers and is herself a critic of Florida's Parental Rights in Education law that bans teachers from indoctrinating very young elementary students with propaganda on gender identity and sexuality, retweeted the list originally posted by an account called "Freesus Patriot."
Which, frankly, should have been her first red flag.
The list claimed the state of Florida had banned books from "To Kill a Mockingbird" and "A Wrinkle in Time" to "The Grapes of Wrath" and even the entire Harry Potter series. Weingarten re-posted the list with the caption, "Books we have taught for generations!!!!"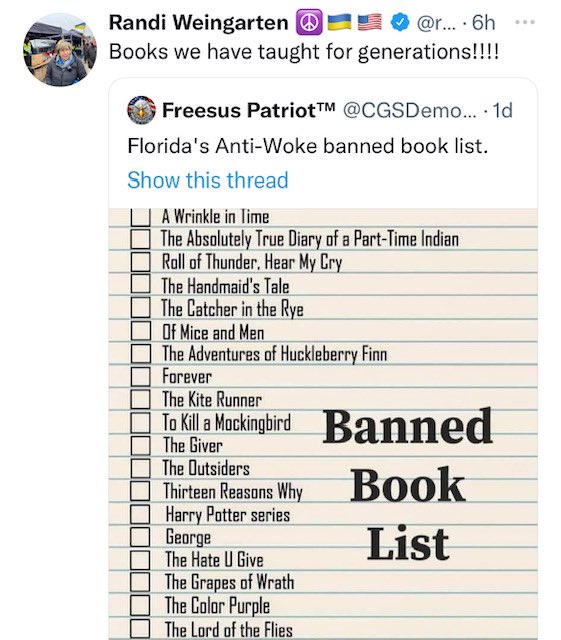 She finally deleted the tweet - hours after an avalanche of Twitter users called her out for sharing an obviously fake claim.
"I should have double checked before I retweeted this list. My bad," she tweeted later. "Looks like some of the books weren't banned."
"Book bans are very real & dangerous," she added.
Weingarten also defended herself to commenters who criticized her for not verifying the claim before blasting it out to her nearly 119,000 followers.
"We thought it was checked. My bad and I deleted," she said.
But perhaps we shouldn't expect much from the woman who supports teaching children that gender is a spectrum and that shoving small children into face masks and kicking them out of classrooms will protect "public health" – even as she palled around bare-faced and fancy-free.