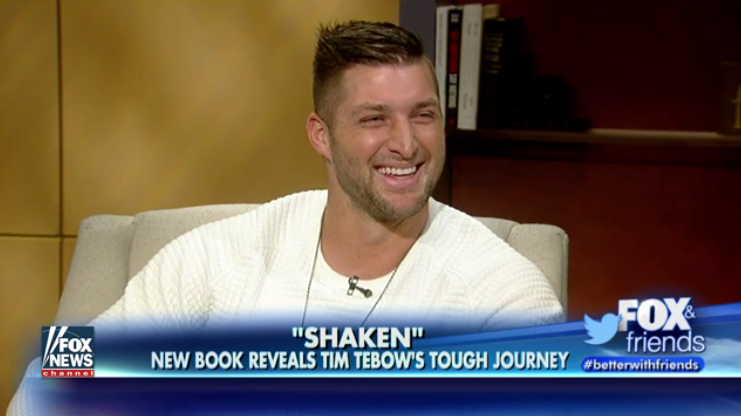 (Image via Screenshot)
In an interview on "Fox & Friends" Monday morning, former football star turned MLB hopeful Tim Tebow discussed how his Christian faith has helped him deal with adversity.
While promoting his book, Shaken, which details his rocky journey as a professional football player, Tebow admitted that it was difficult getting cut from three NFL teams.
"I think it's difficult because, you know, it also cuts into your pride, it cuts into your goals, it cuts into your dreams," said Tebow. "And when all of that feels like it's shaken, how do you react? How do you handle it?"
He explained that his faith helped him get through the difficult times.
"At moments like that, that's when you really find out what's your identity about – what defines you," Tebow said.  
He told "Fox & Friends" that his main goal and the main message of his book can be summed up with the mission statement of the Tim Tebow Foundation: "To bring faith, hope and love to those needing a brighter day in their darkest hour of need."
To say Tebow's journey as a professional athlete has been a rollercoaster is an understatement.
He went from being starting quarterback for the Denver Broncos and bringing his team to the playoffs to getting traded and sitting on the bench as a backup player for three other NFL teams. 
After six years of trying to make it in the NFL, Tebow officially hung up his football helmet in Aug. 2016. 
In an exciting turn of events, Tebow decided to pursue a career in professional baseball, now playing for the New York Mets in the MLB Instructional League.
"I love it," he said. "I've had so much fun being on the diamond… It's such a huge learning curve for me but I'm enjoying every single day."
Check out the full interview below.