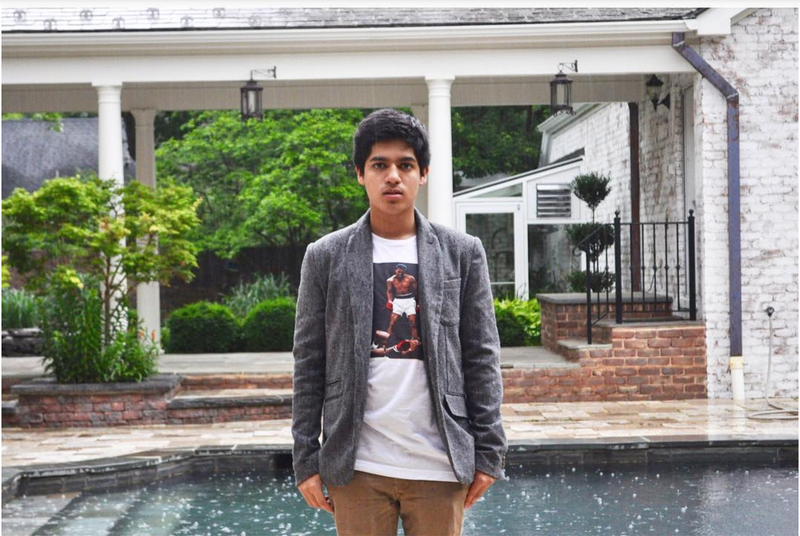 A Muslim teenager from New Jersey was accepted to the prestigious Stanford University after he wrote "#BlackLivesMatter" a hundred times on his college application.
Ziad Ahmed, a senior who attends the $34,600 a year private Princeton Day School, posted his acceptance letter--and the essay that helped get him accepted--on Twitter. The tweet shows that when he was prompted to answer the question, "What matters to you, and why?" Ahmed simply wrote the hashtag "#BlackLivesMatter" one hundred times.
In his acceptance letter, Stanford emphasized how the university loved the "passion, determination, accomplishments and heart" shown in Ahmed's application. They also said he will be joining a "diverse, joyful, and welcoming campus community with a shared determination to make our world better" if he chooses to attend Stanford.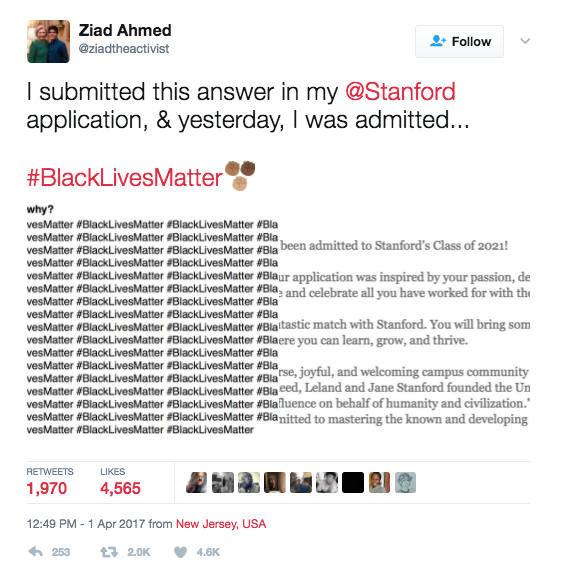 In an interview with Mic, Ahmed said, "I was actually stunned when I opened the update and saw that I was admitted."
"I didn't think I would get admitted to Stanford at all, but it's quite refreshing to see that they view my unapologetic activism as an asset rather than a liability," he added.
Ahmed said he included a reference to Black Lives Matter because he feels "unapologetic progressivism is a central part of my identity, and I wanted that to be represented adequately in my application."
"To me, to be Muslim is to be a BLM ally, and I honestly can't imagine it being any other way for me," Ahmed explained. "Furthermore, it's critical to realize that one-fourth to one-third of the Muslim community in America are black ... and to separate justice for Muslims from justices for the black community is to erase the realities of the plurality of our community."
Ahmed's Twitter profile includes more of his activism and political leanings. On his Twitter page, Ahmed has a profile photo with former Democratic presidential candidate Hillary Clinton, a background photo with former President Obama, a photo with Women's March organizer and terrorist sympathizer Linda Sarsour, and a photo with Teen Vogue writer Lauren Duca, who famously said President Trump is "gaslighting America" and defended Ivanka Trump being harassed.
Although Ahmed's application mentioned his support for Black Lives Matter, acording to the College Board website, Stanford is 36 percent white, 21 percent Asian, 16 percent Hispanic or Latino, 10 percent two or more races, 9 percent non-resident alien, but only 6 percent black or African American. 
For a student living on campus at Stanford, the College Board estimates the total cost of attendance is $67,291.
Mic reports Ahmed has also been accepted to Yale University and Princeton University and is interested in studying international relations, science, economics, and race and ethnicity studies. In 2016, Ahmed won the Princeton Prize in Race Relations.
Thank you for supporting MRCTV! As a tax-deductible, charitable organization, we rely on the support of our readers to keep us running! Keep MRCTV going with your gift here!