Update (5/18, 2:32 pm): NBC News is reporting that 10 people in total have died so far as a result of the shooting at Santa Fe High School in Santa Fe, Texas on Friday. Nine students and one teacher are among the dead.
Update (5/18, 12:25 pm): Fox News is reporting that "possible explosive devices were found on and off the school's campus."
The Santa Fe Independent School District tweeted out a similar message: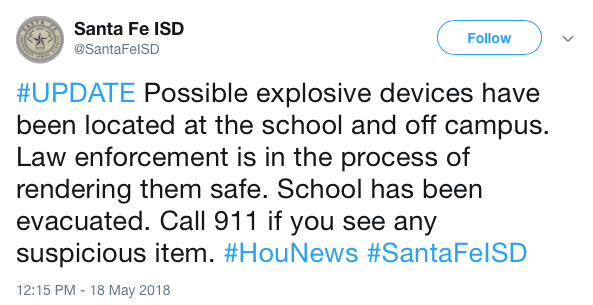 Update (5/18, 12:14 pm): President Trump tweeted about an hour ago concerning the shooting in Santa Fe, Texas:
Original Story: Tragedy has struck again Friday morning as "at least 8 people" were murdered during a shooting at a high school in suburban Houston.
It's being reported that a suspect is in custody, and another person has been detained concerning the incident at Santa Fe High School in Santa Fe, Texas, according to KTRK - Houston.
KTRK is also reporting that "the shooting took place in an art class on campus between 7:30 and 7:45 a.m."
According to CNN:
Witnesses described students running from the school as they heard gunshots; they also described hearing an alarm at the school, though the sequence of events wasn't immediately clear[…]

Patients from the school are being taken to a hospital in the nearby city of Galveston, hospital spokesman Raul Reyes said. He did not say how many or give details about the injuries. At least one police officer was injured, [Harris County] Sheriff [Ed] Gonzalez said.
This is a developing story. Stay tuned to MRCTV for updates.
For live coverage from KHOU 11 - Houston, watch below: