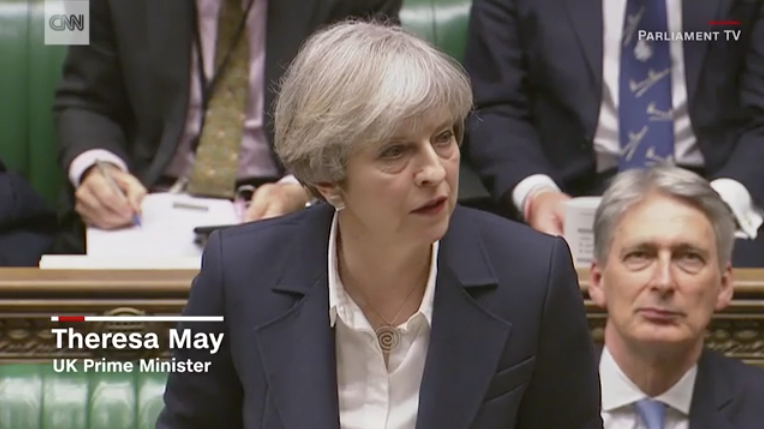 British Prime Minister Theresa May officially triggered Article 50 on Wednesday, starting the formal process of removing the United Kingdom from the European Union.
The letter, directed to European Union Council President Donald Tusk, outlines the United Kingdom's "intention to withdraw from the European Union," the process of withdrawing from the European Union, and setting up the negotiation process between the United Kingdom and the European Union.
The section on "proposed principles for our discussions" says the European Union and the United Kingdom should put their own citizens first, should engage "in a spirit of sincere cooperation," should "work together to minimise," and "continue to work together to advance and protect our shared European values."
In the section on "shared European values," the letter reads, "Perhaps now more than ever, the world needs the liberal, democratic values of Europe. We want to play our part to ensure that Europe remains strong and prosperous and able to lead in the world, projecting its values and defending itself from security threats."
The letter ends: 
The task before us is momentous but it should not be beyond us. After all, the institutions and the leaders of the European Union have succeeded in bringing together a continent blighted by war into a union of peaceful nations, and supported the transition of dictatorships to democracy. Together, I know we are capable of reaching an agreement about the UK's rights and obligations as a departing member state, while establishing a deep and special partnership that contributes towards the prosperity, security and global power of our continent.
May told Parliament, "This is an historic moment from which there can be no turning back. Britain is leaving the European Union. We are going to make our own decisions and our own laws."
"We are going to take control of the things that matter most to us. And we are going to take this opportunity to build a stronger, fairer Britain -- a country that our children and grandchildren are proud to call home," she continued.
Tusk responded to May's letter by saying, "There's no reason to pretend that this is a happy day, neither in Brussels nor in London. After all, most Europeans, including almost half the British voters, wished that we would stay together, not drift apart. As for me, I will not pretend that this is -- that I am happy today."
Tusk added, "What can I add to this? We already miss you."
Thank you for supporting MRCTV! As a tax-deductible, charitable organization, we rely on the support of our readers to keep us running! Keep MRCTV going with your gift here!