Update: Goodell announced that he will appeal today's ruling by Judge Berman. Goodell's statement says,
"We will appeal today's ruling in order to uphold the collectively bargained responsibility to protect the integrity of the game. The commissioner's responsibility to secure the competitive fairness of our game is a paramount principle, and the league and our 32 clubs will continue to pursue a path to that end. While the legal phase of this process continues, we look forward to focusing on football and the opening of the regular season."
Through this process Tom Brady will still be allowed to play. 

And the results are in!Tom Brady will play game one of the 2015 regular season.
For the accused, it was "more probable than not" that Tom Brady was at least "generally aware" that the team ball boy deflated "11 of 12 footballs" at the start of the 2014 AFC Championship game against the Indianapolis Colts. Or, at least, that's how the story first started. Those were the initial findings that lead to a four-game suspension handed down by NFL Commissioner Rodger Goodell.
Since then, Brady and Goodell have found themselves in court over the air pressure of footballs, or uh, Brady's lack of cooperation by not turning over his cell phone - which he destroyed days prior to the investigation. Actually, Judge Berman is looking at the latter at this point. Either way, it started out as one thing and then morphed into a huge, confusing "scandal." 
Mike Reiss of ESPN outlines how this whole court debacle will come down to Article 46 of the NFL Collective Bargaining Agreement (CBA). Reiss, who claims he is not a lawyer but consulted a lawyer about the CBA specifically regarding this case, broke it down like this:
"The lawyer said the arbitration process under a collective bargaining agreement could be compared to signing a waiver at an amusement park. A patron might sign a waiver upon entering the park or a ride, but if the park is proven to be negligent, the terms of the waiver lose their meaning." Reiss goes on to say, "As for the due process of this case, the NFL didn't allow general counsel Jeff Pash -- who edited the Wells report -- to be available for questioning at Brady's appeal hearing. The NFL also claimed attorney client privilege to evidence in the Wells report, and as the NFL Players Association has argued, Brady was suspended under a provision that has never been applied to players before, with a never-used-before "general awareness" standard."
The suspension was nullified because Berman couldn't see how the NFL could equate steroid use to deflation of footballs. He stated, 
"The Court finds that the NFL's collectively bargained for "Policy on Anabolic Steroids and Related substances ("Steroid Policy") is sui gerris. It cannot, as a matter of law, serve as adequate notice of discipline to Brady. It also cannot reasonably be used as a comparator for Brady's four-game suspension for alleged ball deflation by others in the first half of the ACF Championship Game and for non-cooperation in the ensuing Investigation."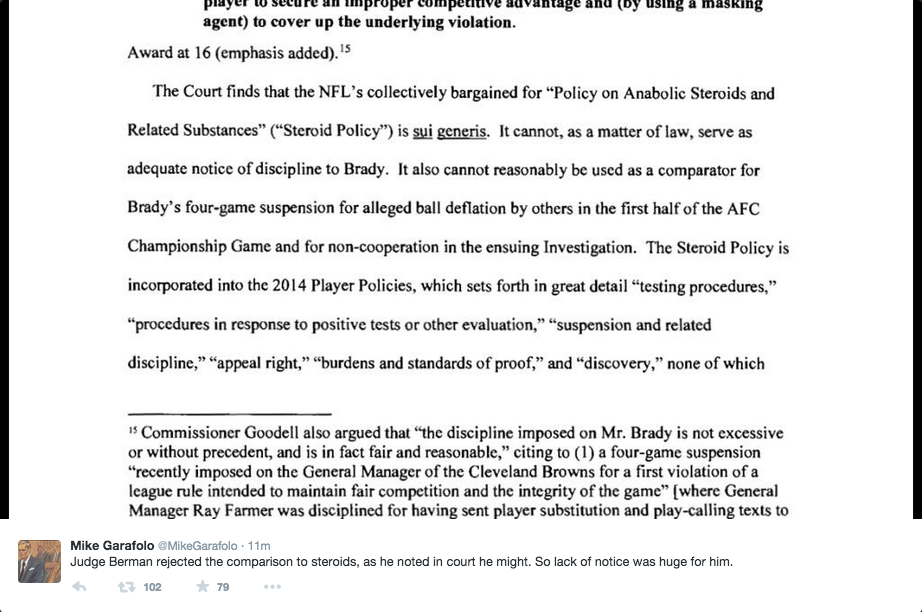 Other reasons for Judge Berman's ruling, according to Fox Sports1 Insider Mike Garafolo, include that:
"Berman vacated suspension on 3 grounds: Lack of notice, NFL's denying Jeff Pash interview, NFL's denying access to investigative files."
Ian Rapoport has tweeted out: "Don't expect @NFL to seek an injunction to keep Tom Brady off the field as they appeal this ruling. Basically, he's playing this season." So, the NFL will not appeal Brady's appeal barring him playing until the next ruling, which means Deflate-Gate is finally over.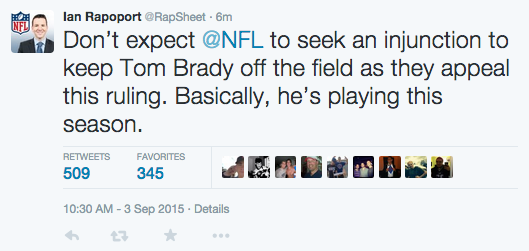 So, Pats and Pats fans can rest assured that, on September 10th, they'll see Brady laced up and ready to go. For those of you who, like me, picked Brady up in your Fantasy Football leagues in anticipation of the ruling, I'd probably start the Pats' quarterback, because he is probably going to be pissed, which makes it likely he'll light up any team he faces.
We're on to Pittsburgh.