He might not be sitting in the Oval Office right now, but former President Donald Trump is still good for a zinger or two - even if you have to go over to his relatively obscure Twitter-esque platform to see it.
Clearly already irate that he may be indicted and arrested on criminal (and clearly politically-motivated) charges this week, Trump blasted President Joe Biden's foreign policies in a scathing…er… "Truth" storm this weekend.
"China, Russia, Iran, North Korea and other Nations of a less than friendly nature, are busy 'CARVING UP THE WORLD' as our once great United States of America sits back and watches. We are a Failing Nation, with Open Borders, Fake Elections, and a horrible Inflation Riddled Economy," Trump blasted out on his platform Truth Social Sunday night, adding, "We no longer set the standard, the standard sets us."
"Our so-called 'Leader' does NOTHING Except Eat, Sleep and S..t!" Trump then fired off (to be clear, I didn't cut anything - he censored himself).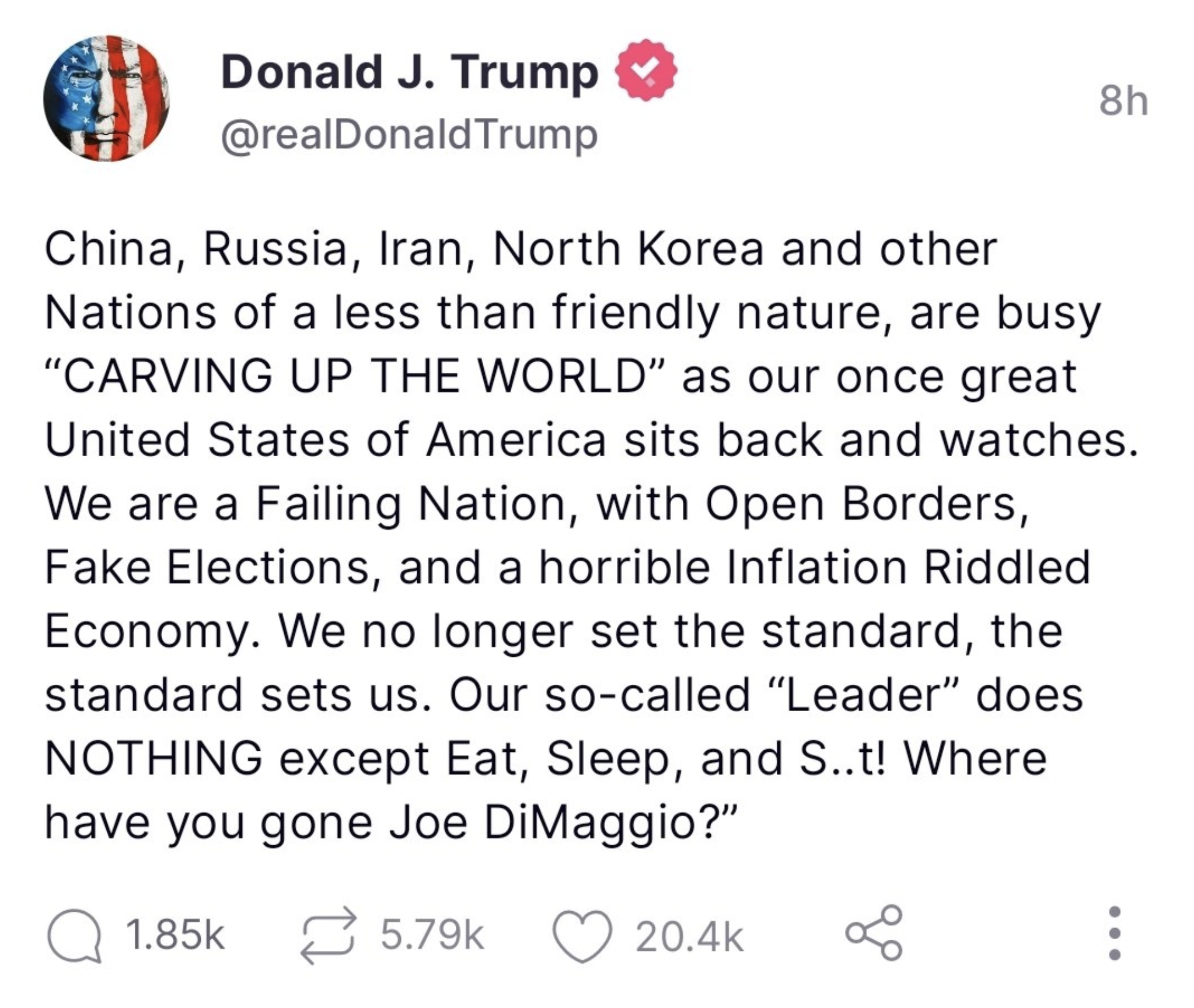 Related: Did the Bidens Take Payouts From China? Bank Records Raise Questions | TBHS
Crass? Maybe. Trump-like? Absolutely.
But given that Biden has a habit of studiously avoiding microphones following major national events (East Palestine and the Chinese spy balloon debacle, to name just a few recent ones), the fact that he has yet to come up with any tangible solutions to the slew of problems facing the American people, and the fact that even former White House Press Secretary Jen Psaki said Biden never does anything at the wee hour of 9 a.m., I'm not particularly inclined to disagree with him.