President Trump on Wednesday slammed Nike for featuring Colin Kaepernick in its 30th anniversary "Just Do It" ad campaign.  
"Just like the NFL, whose ratings have gone WAY DOWN, Nike is getting absolutely killed with anger and boycotts," Trump wrote on Twitter. "I wonder if they had any idea that it would be this way?"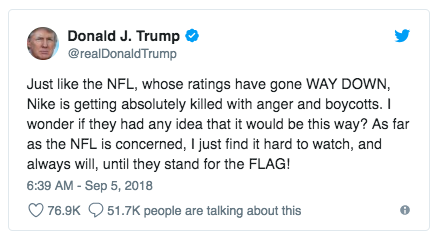 He went on to say that, "As far as the NFL is concerned, I just find it hard to watch, and always will, until they stand for the FLAG!"
Nike's new ad campaign released on Monday features Kaepernick's face with the slogan, "Believe in something. Even if it means sacrificing everything."
Trump on Wednesday struck a different tone than his comments made to The Daily Caller on Tuesday, where he said that he thought Nike was sending a "terrible message" but the company's ability to make its own business decisions "is what this country is all about."
His new comments come as Nike continues to face backlash, including boycotts by former customers, some even going so far as to burn their Nike gear.
As reported by MRCTV, members of the military are also outraged at Nike for its endorsement deal with the former NFL quarterback, who is currently suing the league for allegedly colluding to keep him off the field because of his protests during the playing of the national anthem.   
While Nike's stock saw a gain of 0.7% on Wednesday, it dropped 3.2% on Tuesday, "suffering the sports-apparel company's worst daily drop since April 2," MarketWatch reports.