President Trump during his joint press conference with Russian President Vladimir Putin in Helsinki on Monday said that he holds both the U.S. and Russia responsible for the poor relationship between the two countries.  
"Do you hold Russia at all accountable for anything in particular?" asked an American reporter. "And if so, what would you consider them – that they are responsible for?"
"Yes I do," Trump responded. "I hold both countries responsible. I think that the United States has been foolish. I think we've all been foolish. We should've had this dialogue a long time ago. A long time frankly before I got to office. And I think we're all to blame."
"I think the United States now has stepped forward along with Russia," he continued. "And we have a chance now to do some great things."
"I do feel that we have both made some mistakes," Trump noted.
Insofar as mistakes on the part of the U.S., he cites former President Obama's knowledge of Russian meddling and special counsel Robert Mueller's investigation into 2016 interference, which Trump said has been "a disaster for our country."
Trump on Monday tweeted that "our relationship with Russia has NEVER been worse thanks to many years of U.S. foolishness and stupidity and now, the Rigged Witch Hunt!"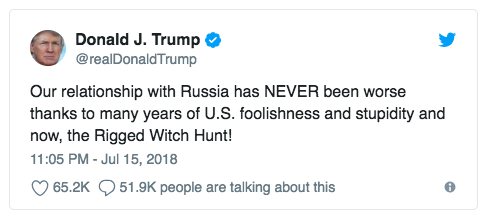 "President Obama thought that Crooked Hillary was going to win the election, so when he was informed by the FBI about Russian Meddling, he said it couldn't happen, was no big deal, & did NOTHING about it. When I won it became a big deal and the Rigged Witch Hunt headed by Strzok!" he wrote in another tweet.
During the press conference, Trump said that there was "zero collusion" and that "everyone knows it."
He added that the Mueller probe "has had a negative impact upon the relationship of the two largest nuclear powers in the world."
When pressed to say whether he believes Russia interfered in the 2016 election, President Trump did not give a definitive answer.
Putin also chimed in, asking the reporter to "name a single fact that would prove the collusion."
"This is utter nonsense," he said.
Russia continues to deny any collusion as well as any meddling.
As to Mueller's indictment of 12 Russian hackers for attempting to influence the 2016 election, Putin said that he is open to any requests by the U.S. for either his government or American officials to interrogate the 12 individuals.
But, he noted, that he would expect the U.S. to return the favor when it comes to any U.S. law enforcement or intelligence operatives whom the Kremlin believes to be involved in "illegal actions on the territory of Russia."