President Trump on Sunday said that the U.S. is starting its "long overdue pullout" of U.S. troops from Syria and threatened to "devastate" Turkey's economy if Kurdish fighters in Syria are attacked -- a major point of concern made by critics following the president's announcement in December.
Trump also mentioned the creation of a "20 mile safe zone," which may suggest a selling point being made by Secretary of State Mike Pompeo who is currently touring the Middle East in an effort reassure U.S. allies in the region.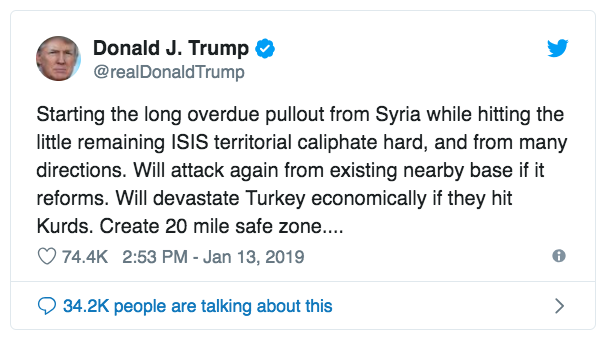 Trump in a following tweet also warned the Kurds not to "provoke Turkey," either.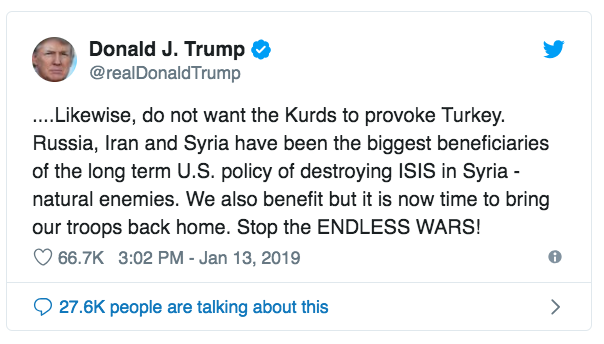 He defended his decision to withdraw U.S. troops from Syria as a move to, "Stop the ENDLESS WARS!"
The withdrawal process had reportedly begun last week, according to Fox News, despite concerns that Kurdish allies in Syria, without the backing of U.S. forces, would be left vulnerable to attack. 
Fox News reports,
A U.S. defense official told Fox News on Friday that the U.S.-led military coalition in Syria started the process of removing troops from the region, but wouldn't confirm further details for security purposes.

The announcement of a pullout is fueling concern about how quickly the U.S. will abandon its Kurdish allies, amid contradictory statements recently by Trump administration officials on an exit timetable.

The withdrawal began with shipments of military equipment, U.S. defense officials said. But in coming weeks, the contingent of about 2,000 American troops is expected to depart even as the White House says it will keep up the pressure on ISIS.
As to the president's critics who say ISIS is far from "defeated," Trump said the U.S. will be "hitting the little remaining ISIS territorial caliphate hard, and from many directions."
"Will attack again from existing nearby base if it reforms," he wrote on Twitter.