On top of being the sole arbiter of what news articles the public can consume, Twitter has now taken it upon themselves to also be the authority on science, banning from their platform an actual scientist working on the Trump administration's coronavirus team for several posts explaining why universal mask mandates won't work.
Let me simplify: Twitter, a social media platform consisting of blurbs, is now censoring an actual scientist because his opinion doesn't line up with their lockdown-loving narrative.
Scott Atlas, a senior fellow at Stanford's Hoover Institute and a member of the Trump COVID team, was banned from Twitter and his tweets were removed after he criticized the idea of a universal mask mandate, explaining that masks don't always work and that they should only be worn when people can't socially distance from one another.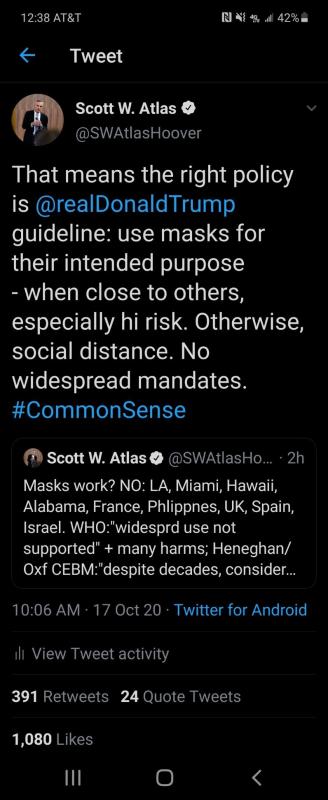 Atlas was suspended from the platform until he agrees to delete the tweets, which Twitter has arbitrarily claimed violate their terms of service.

Atlas sent an explainer to The Federalist citing several studies that served as the basis for his tweets, including evidence from the World Health Organization and the CDC that concluded masks aren't as effective as some people claim.
Twitter's censoring of Atlas comes after the social media platform spent much of last week suspending the accounts of anyone who shared a New York Post article that raised questions about Democrat presidential candidate Joe Biden's potential abuse of power as then-vice president to further the overseas business interests of his son, Hunter. Twitter quickly changed its "rules" after several lawmakers on Capitol Hill threatened legal action against the platform for election tampering and violating of FEC rules.