Vanity Fair's Kurt Eichenwald has lost it.
I mean really, truly, marbles-all-over-the-floor, strawberry-fields-forever gone.
I told you a couple of days ago how Eichenwald – of tentacle porn fame – was harassing pro-gun Parkland survivor Kyle Kashuv on Twitter after supposedly getting him confused with a different high schooler that Kurt had originally meant to harass.
It was, he says, a simple case of mixing up which underage child to attack. Oops.
The exchange led to a short back-and-forth between Kurt and Daily Wire Editor-In-Chief Ben Shapiro, who pointed out that a simple apology for the error is, according to the left's own standards, not enough. (Proactiv ended up dropping their ads from MSNBC over the whole debacle.)
Now Kurt, who's also a Newsweek writer, is sending unhinged emails to Shapiro, saying he's writing an article about Kyle after having had his psychiatrist friends analyze the teen's tweets and determining he's "psychologically troubled."
Here's the email he sent Shapiro, if you can believe it: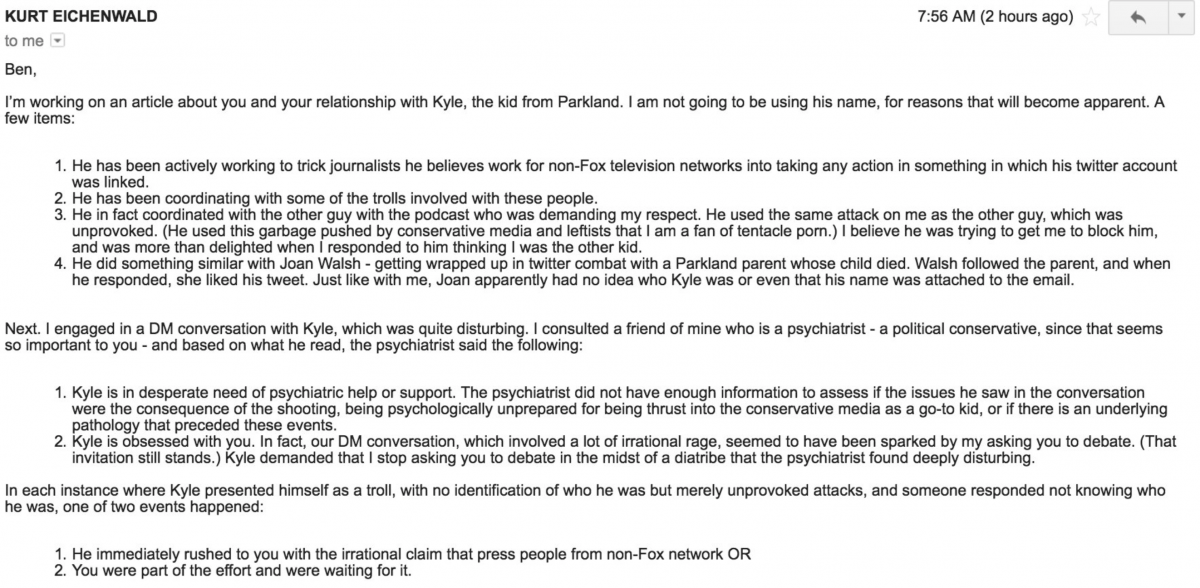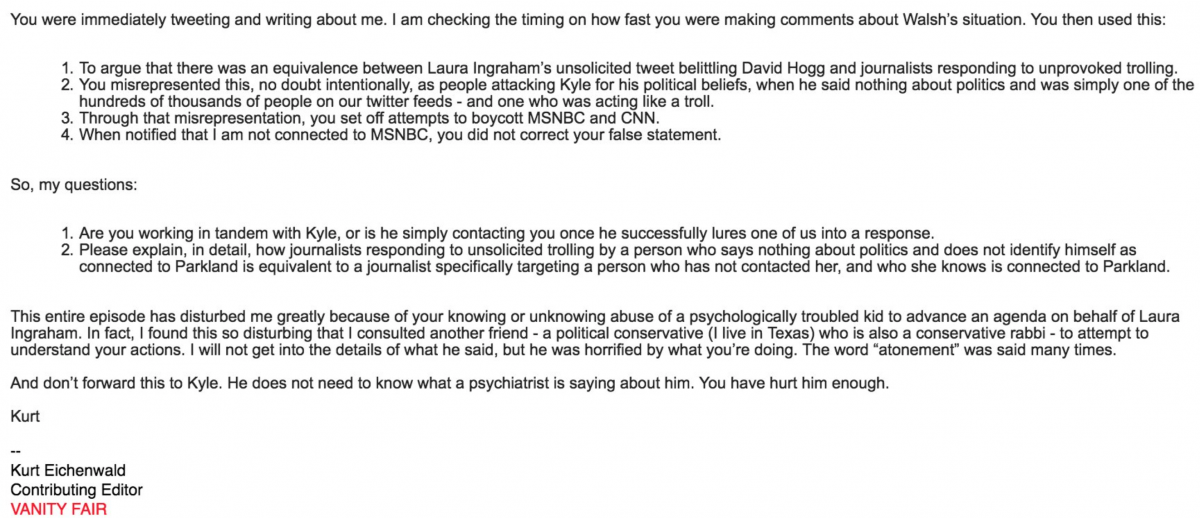 Got that? Because I'm thinking I understand maybe 45 percent of it, at best. 
So to recap, as best we can: a far-left "journalist" associated with several major publications is saying he's had his shrink buddies diagnose a teenage Parkland shooting survivor for signs of psychological trauma based on some tweets, all because the teenage kid totally owned him on social media and hurt his itty bitty baby feelings.
And apparently, it's now a crime and/or sign of mental instability for this kid, who no one knew two months ago and who became insta-famous in about five minutes, to turn to his favorite political commentator for insight and guidance.
Now recall, for just a moment, that Fox News host Laura Ingraham has been harassed, boycotted and dragged through the social media coals for tweeting about Parkland anti-gun activist's David Hogg failing to get into any of his top colleges. Her public apology was summarily rejected, her advertisers have been fleeing in droves from the backlash, and even people whose names are kinda-sorta similar to hers are finding themselves in the crosshairs of liberal Twitter's ire by accident.
Can you imagine how nuts the entire left would be going if Ingraham had called Hogg "psychologically troubled" and said a few of her friends who work at the local Funny Farm have decided he's in dire need of mental help based on his tweets?
Can you imagine if she'd suggested he's got an "underlying pathology" for why he's nuts?
Liberals, would y'all like to be the pot or the kettle, here? I'll let you decide.