In the aftermath of the Las Vegas, several people have used the discretion inhibitor known as social media to say some absolutely outrageous things about the shooting and the victims who lost so much in its wake. 
Food truck owner Delinda Jensen, 60, of Wilkes Barre, took to Facebook to post her thoughts about the tragedy that took place in Las Vegas. In her post, Jensen wrote: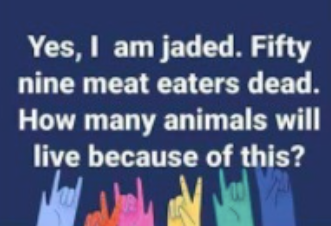 Jensen also wrote in the comments section of the post referring to the victims as "carnists," saying she didn't care about them.
Now, Jensen is paying for her poor taste. In response to the outrage, Jensen apologized for her statements in an interview with the Times Leader newspaper in Wilkes-Barre.
"Was it poorly written? Absolutely. Do I regret it? Yes. I am so sorry I wrote that," she told the Times Leader. "Meat eaters or not, no one deserves to die like that. I wasn't celebrating the death of those people." 
Jensen became a vegan two years ago and started the Mother Nature Vegan Cuisine food truck with her son. The food truck owner also had a career as an adjunct history professor before her years of veganism. 
Since the post hit the web, Jensen has reported that she has been receiving death threats and had to shut down her business, hide her food truck, cancel her bookings, and install a security camera at her house. In addition, she also deleted the post and deactivated her Facebook account. 
Jensen now maintains that she only wanted to make the point that she believes animals are tortured and killed unnecessarily for meat production. Unfortunately for her, words have consequences, and when you say something as inflammatory and irresponsible as she did, you may just have to accept them.
Thank you for supporting MRCTV! As a tax-deductible, charitable organization, we rely on the support of our readers to keep us running! Keep MRCTV going with your gift here!