Young students at one Washington State elementary school are being forced to eat lunch outside in near-freezing temperatures, for "safety."
Parents of Lakeview Elementary students were outraged after finding out their children had returned from winter break and were being made to eat their meals outdoors as part of the school's COVID policies on social distancing. One mom, who has two children enrolled in the school's first and third grades, said her husband called the school to ask about the policy after their kids complained, only to be told that children would be required to eat outside "as long as temperatures did not drop below 38 degrees Fahrenheit," the Kirland Reporter stated.
According to school officials, that threshold wasn't chosen due to concern for the children or for any COVID-related scientific reasons, but rather because that's the average wintertime temperature for the area.
From the Reporter:
Lake Washington School District spokesperson Shannon Parthemer said the 38-degree threshold was decided on because it is the average temperature of Kirkland during the months of December, January and February. She said if temperatures fall below that mark, the school will work to find other places for students to eat lunch indoors.

"The principal did send a message to families yesterday, to remind families to dress their children warmly for school today, as students will continue to eat in this outdoor covered space," said Parthemer.
The school system is now sending weekly emails to parents telling them whether their kids will be eating outdoors for the next few days based on the weather forecast - the emails ironically signed, "stay warm."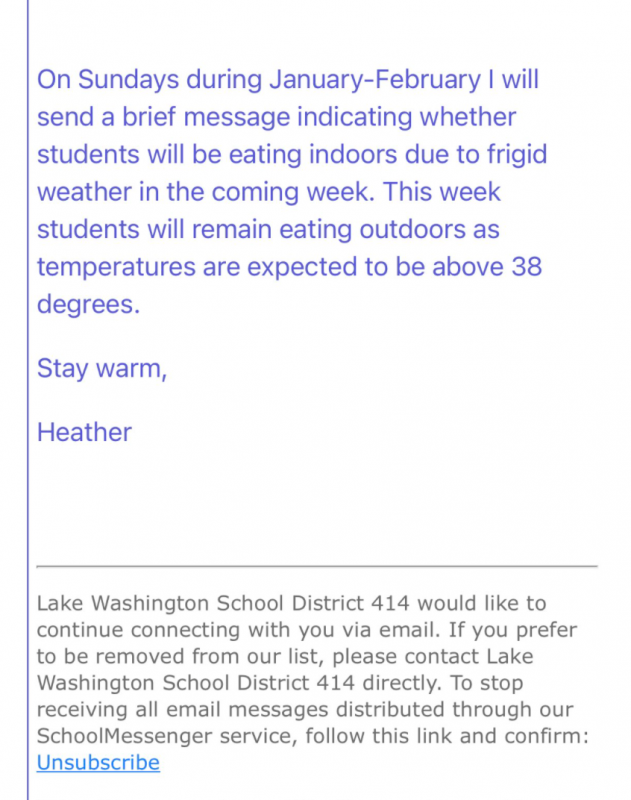 Parents said that teachers, however, are being allowed to eat their own meals in their warm classrooms while children as young as 5 years old are being made to sit outside in sub-40-degree weather.