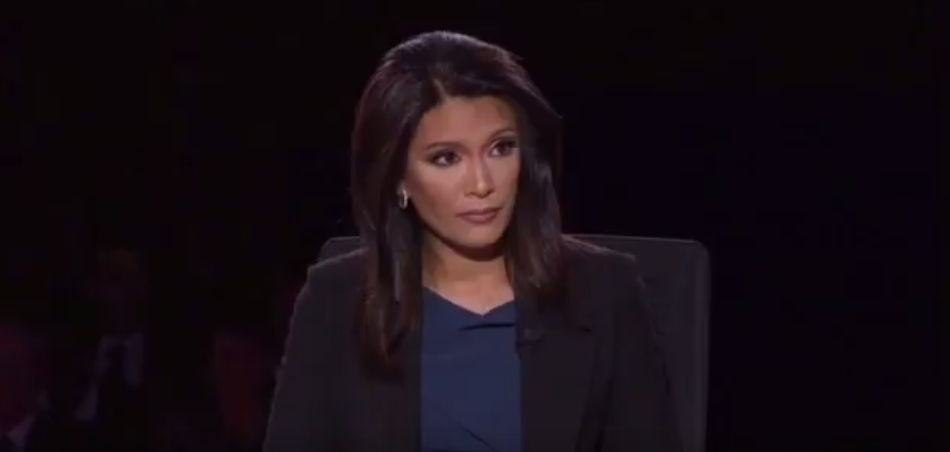 (Image via Screenshot)
CBS News' Elaine Quijano repeatedly challenged Gov. Mike Pence (R-Ind.) during the 2016 vice presidential debate in Farmville, Va., on Tuesday.
The debate moderator criticized Pence for failing to answer questions when he was unable to get a word in with constant interruptions from Hillary Clinton's running mate Sen. Tim Kaine (D-Va.).
On the subject of immigration, in addition to her initial question, Quijano overstepped her role of moderator by pressing Pence on whether illegal immigrants would be "forcibly removed" under Trump's plan.
"Governor, how would these millions of undocumented immigrants leave? Would they forcibly be removed?" she asked.
She appeared to support Sen. Kaine on his criticism of Trump, answering back to him, "right," in agreement.  
Kaine said, "This is important, Elaine. When a guy running for president will not support the troops, not support veterans, not support teachers…"
"Right," Quijano responded, before Kaine even finished his remark.
Kaine went on to overrun the moderator, taking control of the debate by speaking over both Gov. Pence and Ms. Quijano.
The debate quickly became one-sided:
Quijano later stopped Pence short in his discussion of the Clinton Foundation even though Kaine had ample time to defend the charity and attack the Trump Foundation. 
Thank you for supporting MRCTV! As a tax-deductible, charitable organization, we rely on the support of our readers to keep us running! Straight from Founder and President, Brent Bozell, please read the MRC request for support here to see how you can join the movement!