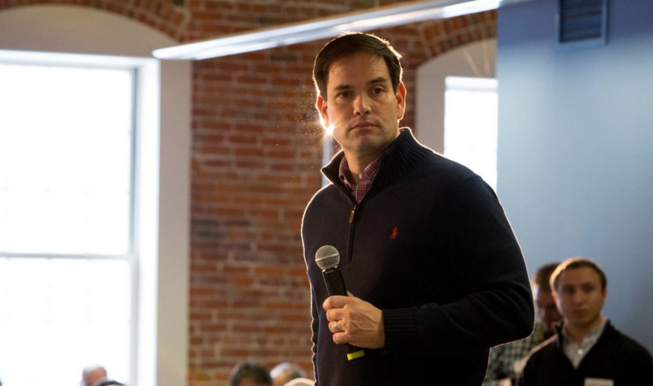 Image via Twitter
An atheist confronted Florida senator and Republican presidential candidate Marco Rubio at a campaign event in Iowa on Monday night about his recent efforts to win over evangelical voters.
The man asked, "For atheist voters who are looking for somebody that will uphold their rights as Americans and not pander to a certain religious group… How do you plan on upholding our rights?"
"Because there's talks in our community of you running as pastor-in-chief instead of commander-in-chief," he added.
Rubio, a Roman Catholic, delivered the perfect response:
"You have a right to believe whatever you want," he said. "You have a right to believe in nothing at all."
"I believe you can't really understand America if you don't believe the Judeo-Christian values," Rubio argued. "This nation was founded on the principle that our rights come from our Creator. If there's no Creator, then where did your rights come from?" 
"We're going to protect the rights of Americans to continue to believe that," he continued. "We're also going to have a country where no one is forced to violate their conscience. Which means no one is going to force you to believe in God, but no one's going to force me to stop talking about God."
After drawing much applause from the audience, Rubio went on, "I'm not going to force you to pray. I'm not going to force you to go to church. I'm not going to force you to espouse beliefs that you don't have. But no one is going to take my right and your right to live out the teachings of your faith. No one."
Listen to the rest of his remarks in the video clip below.