We all had the fortune of enjoying the socialist construct of International Women's Day on Friday, so naturally, feminists were out in full force to do what they do best on days that they should celebrating themselves — bash men.
Sometimes singing star and modern feminist Cher went on Twitter last Friday, and again later that night, to explain to the rest of us the power that women have and how men have always tried to keep them down and control their bodies. Oh, and in case you wondered, Cher made sure to lump in all Republicans with the evil men who didn't stop her from making the millions she's made over her career.
Here's Cher's first tweet (Yes, she is yelling at everyone. Not sure why, but…Hollywood, so):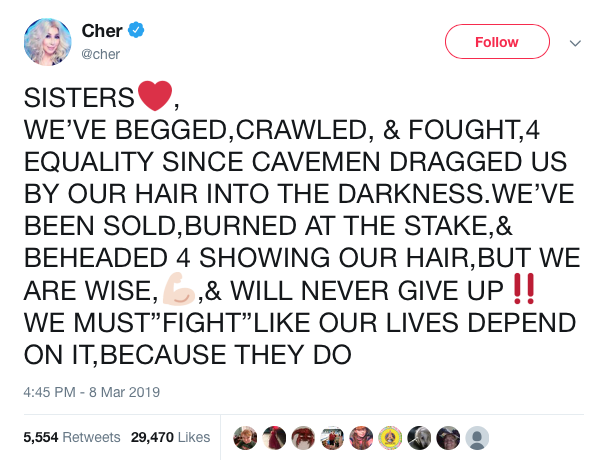 I wasn't aware that  women were the only people in history who have ever had anything bad done to them. Oh, that's right. They aren't. I mean heck, I watched a rerun of "Game of Thrones" the other day that showed a man being "burned at the stake." Sure that show is fiction, but they couldn't have really done that scene without there ever being an instance of men being burned at the stake in reality. Oh well. He must have "identified" as a woman.
Anyway, Cher wasn't done there. She came back to Twitter hours later and went further off the deep end: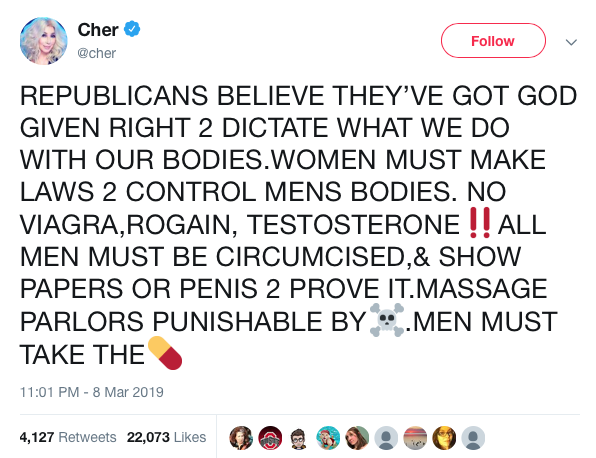 She must've been on Ambien. I know that was Roseanne Barr's excuse, but since Cher is a far-left feminist puppet, that excuse could work for her.
Did I miss a memo? Since when have men been taking estrogen away from women? Nobody wants to tell you what to do with your bodies. People just want you to stop killing children. That really shouldn't be that controversial of a request.
I think all that botox might have seeped into Cher's brain, because these tweets are delusional at best.
H/T: Louder with Crowder