The U.K.'s exit from the European Union (EU) seems to finally be a done deal. The U.K. isn't out of the EU just because they've reached a deal, but pending approval of Parliament, they will be out soon.
Both EU President Jean-Claude Juncker and British Prime Minister Boris Johnson tweeted early Thursday morning that the EU and the U.K. have reached a deal that will allow the U.K. to leave the EU more than three years after the people of the U.K. voted to leave. The "Brexit" movement looks like they're finally going to get their wish.
Here's the tweet from Juncker sent out Thursday, along with a letter Juncker sent to Donald Tusk, the president of the European Council: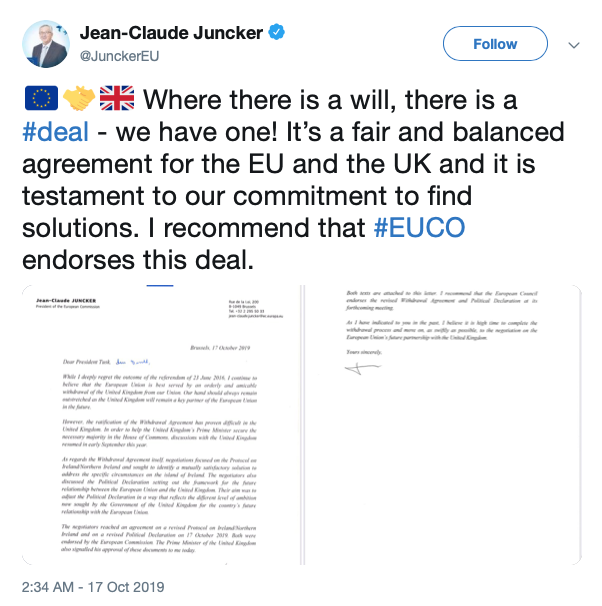 "While I deeply regret the outcome of the referendum of 23 June 2016, I continue to believe that the European Union is best served by an orderly and amicable withdrawal of the United Kingdom from our Union," Juncker wrote. "Our hand should always remain outstretched as the United Kingdom will remain a key partner of the European Union in the future."
Here's Johnson's tweet: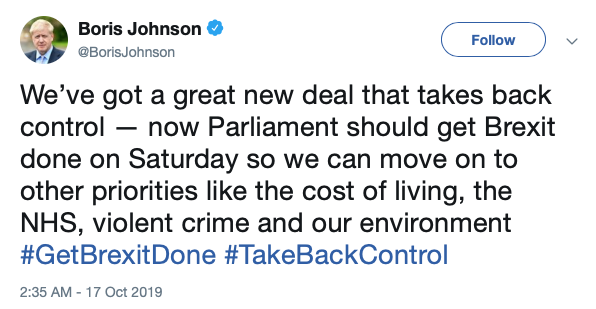 Brexit Party leader Nigel Farage isn't impressed with the deal and thinks that Parliament should reject it come Saturday. He shared his thoughts with Fox Business' Stuart Varney on Thursday:
It's not a new deal, Stuart. It's [former prime minister] Mrs. [Theresa] May brought this new EU treaty — not a deal, but a treaty — back to us a year ago. Our Parliament quite rightly rejected it three times. What Boris [Johnson] has now done is to amend it, get some changes — to put lipstick on the pig. There are some things that are better about it, some things that are worse about it. And yes, I'd love us to be free!
The far-left leader of the U.K.'s Labour Party Jeremy Corbyn, who has been firm in his stance to stay in the EU, tweeted his own words from Facebook displaying his displeasure with the deal.
"These proposals risk triggering a race to the bottom on rights and protections: putting food safety at risk, cutting environmental standards and workers' rights, and opening up our NHS to a takeover by US private corporations," Corbyn wrote.
Here's Corbyn's tweet of his Facebook post: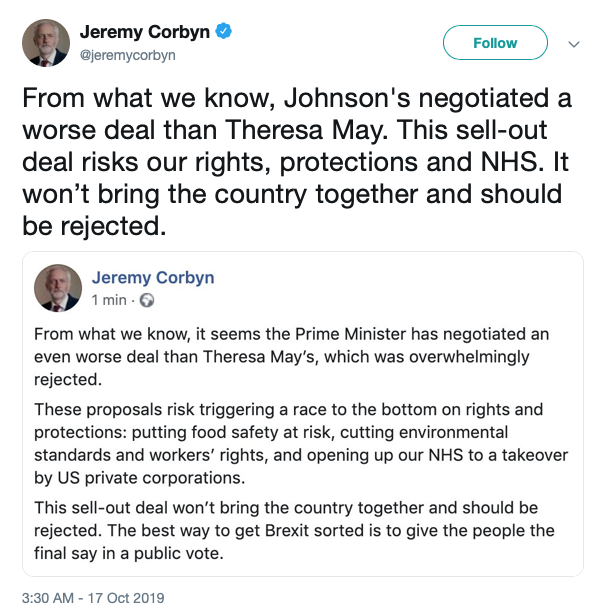 The U.K.'s referendum to leave or stay in the EU happened on June 23, 2016. The option to leave received over a million more votes (17,410,742) than the decision to stay (16,141,241). Both England and Wales voted to leave the EU, while Northern Ireland and Scotland voted to stay. England comprised the overwhelming majority of the vote.
H/T: Fox Business