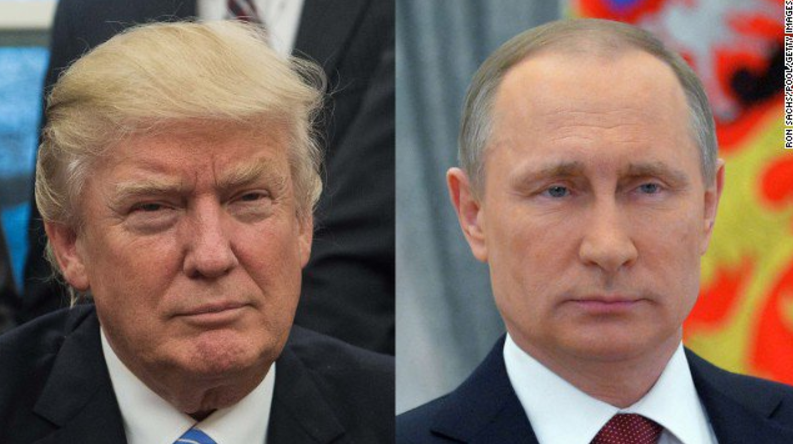 (Image via Twitter)
President Trump spoke with Russian President Vladimir Putin over the phone on Tuesday regarding the ongoing situation in Syria.
The White House, instead of publishing the full text of the conversation, provided a brief summary on its official website.
According to the White House, "the conversation was a very good one," covering issues such as the civil war in Syria, radical Islamic terrorism in the Middle East, and the threat of nuclear weapons in North Korea.
"President Trump and President Putin agreed that the suffering in Syria has gone on for far too long and that all parties must do all they can to end the violence," the press release reads. "The conversation was a very good one, and included the discussion of safe, or de-escalation, zones to achieve lasting peace for humanitarian and many other reasons."
The White House failed to mention specifics as to what Trump and Putin plan to do to directly address the Syrian president Bashar al-Assad and his egregious human rights violations, nor what the two world leaders feel is the best way "to resolve the very dangerous situation in North Korea." 
The U.S. reportedly plans to send a representative to cease-fire talks between Syria's government and rebel forces in Astana, Kazakhstan on May 3-4.
According to Russian media, Trump and Putin agreed during the phone call to schedule a meeting on North Korea, to take place in Germany around the G20 Summit in July, The Independent reports. 
During Tuesday's press briefing, White House spokesman Sean Spicer conveniently walked out before taking any questions on the matter.
The conversation between Trump and Putin comes just weeks after a fatal chemical attack on a rebel-held Syrian town that killed at least 90 people, 30 of them children.
The attack, said to be ordered by Assad despite his government's continued denial, was followed by additional airstrikes on the same town, carried out by either Syrian or Russian forces, according to the Syrian Observatory for Human Rights.
President Trump responded to the attack by condemning Assad and ordering a military strike on an air field in Syria from where the chemical attack was launched.
Russia called the military action an "act of aggression."  
Thank you for supporting MRCTV! As a tax-deductible, charitable organization, we rely on the support of our readers to keep us running! Keep MRCTV going with your gift here!