Remember that time Republican Roy Moore lost a well-established red Senate seat to radical pro-abortion Democrat Doug Jones?
Rep. Sheila Jackson Lee doesn't. Or at least, not very well.
It appears Ms. Lee either wasn't paying attention or had a little too much champagne at Jones' victory celebration because...well, she totally forgot his name. Or just didn't bother to learn it in the first place. We're not sure.
Instead, the Texas congresswoman congratulated one "Doug Moore" on his stunning upset.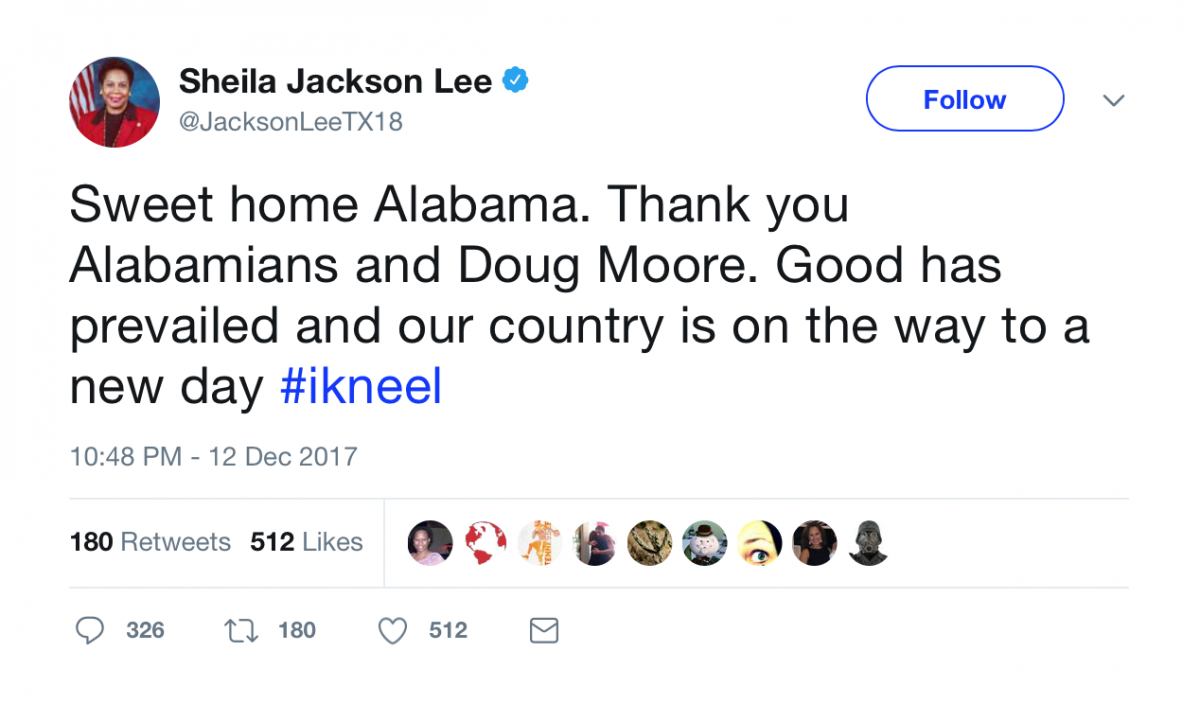 "Good" may have prevailed (not really), but basic brain function apparently didn't, as evidenced by the fact that Lee's tweet has remained posted for -- at the time of this writing, at least -- a full three hours.
And people sure are noticing her flub.
What's really scary is she is in my neck of the woods. All prayers accepted

— Harry chandler (@HChandlerIII) December 13, 2017
Can't believe Roy Jones lost tonight

— Jerry Christmas 🎄🎅🏽 (@JerryDunleavy) December 13, 2017
Not so fast, Shelia! Roy Jones demands a recount!

— Alana Mastrangelo (@ARmastrangelo) December 13, 2017
Doug Moore pic.twitter.com/zlCceDCFqi

— Icculus The Brave (@FirenzeMike) December 13, 2017
Who's Doug Moore?

— Go Hawks/Go Cougs (@HawksCougs) December 13, 2017
Well said, Sheila Jackson Pelosi 👍

— Focker BA, BSN-RN 🦉 (@FockerRN529) December 13, 2017
Roy Moore is living rent free in @JacksonLeeTX18's brain it seems.

— Deplorable Patti (@patriotgurrl) December 13, 2017
One actual Doug Moore was all too happy to accept Ms. Lee's thanks...though he wasn't quite sure what for. 
You're...welcome?

— Doug Moore (@DMooreNFL) December 13, 2017
Perhaps, if you're going to congratulate a winning candidate, fellow party member and soon-to-be congressional colleague, it might do you well to first learn his name.
Thank you for supporting MRCTV! As a tax-deductible, charitable organization, we rely on the support of our readers to keep us running! Keep MRCTV going with your gift here!