It's not just the NBA that is hopping on the gun control bandwagon in lieu of the school shooting in Uvalde, TX. MLB is getting in on the virtue signaling as well.
Last night, the social media teams of the Tampa Bay Rays and the New York Yankees collaborated with each other to use their Twitter pages to spam people's feed with facts about gun violence. Both teams posted no game updates throughout the Yankees' eventual 7-2 win.
May 26, 2022
At a pace of nearly three facts per hour, both teams inundated their followers with tweets like this to push the idea that because people can die from gun violence, more gun control is necessary.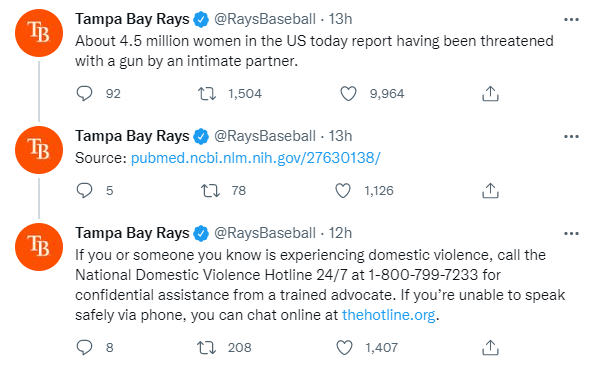 "We understand that no single organization can solve this crisis alone," the Rays said in a post, "but working together, we can make an impact."
The Rays also made a $50,000 donation to Everytown for Gun Safety, an organization that plans to end gun violence through "common sense" gun laws (translated: more restrictions on your second amendment freedoms).
Related: Irony: Planned Parenthood Retweets in Support of 'Protecting' Kids
At first glance, this looks like the type of messaging that everyone should be promoting and getting behind. But if we do a little more honest work and dig deeper, we realize this isn't actually the case.
Americans wrongly believe that taking away guns will prevent tragedies or gun violence in general from happening. But as some data from Chicago shows, strict gun control laws do not solve the bigger problem of people having a desire to kill others. If people try hard enough to find and obtain guns, they will.
The intent of all the facts the Rays and Yankees published is to make their audiences have an emotional reaction to a problem that requires a much more complex solution than just restricting how or when people can get guns. Wanting to make an impact is good, but doing it in the way these teams want to is not a beneficial way to do it.
CBS admitted that Beto O'Rourke's interruption of @GovAbbott's Uvalde shooting presser was completely orchestrated. pic.twitter.com/OioOInkg8U

— MRCTV (@mrctv) May 26, 2022