Professional athletes always talk about how they hate it when people say things such as, 'Shut up and dribble.' After all, they're people entitled to their own opinions as well, which is true. But when you're an athlete famous enough that you influence people, especially children, sometimes you're better off tamping down their outrage in favor of saying things with a little decorum. Whichever way people criticize them for what they say, athletes will always play the activist victims they've been trained to be.
On Wednesday, activist basketball player LeBron James tweeted out — and subsequently deleted — a picture of the police officer who allegedly shot and killed a 16-year-old that allegedly was attempting to stab another female with a clearly visible knife. Along with the picture of the officer, James posted the caption, "YOU'RE NEXT #ACCOUNTABILITY." An hour glass emoji accompanied the caption.
James parroted what every media pundit, politician and activist has used to describe the conviction of former Minneapolis police officer Derek Chauvin, "accountability."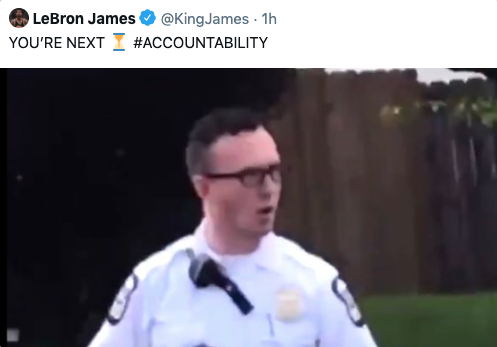 The NBA superstar has since deleted the tweet in question but hasn't publicly given a reason for the action.
RELATED: NPR Adds Disclaimer to Police Shooting Story: 'Some Facts Reported By the Media May Later Turn Out To Be Wrong'
Last August, sports journalist Jason Whitlock spoke out about James' social media activism, referring to him as a "bigot" in the process.
Bigots, regardless of color, have a common trait. Ignorance. Ignorance fuels their ego," Whitlock wrote. "Information is their enemy. They avoid it at all costs. Negative anecdotes frame their worldview.

Bigotry has subdued and detained LeBron James.
I can't sum it up any better than that.