President Trump announced via Twitter on Sunday that Rep. John Ratcliffe (R-Texas) will be his nominee to replace the outgoing Director of National Intelligence (DNI), former Republican senator from Indiana Dan Coats. Coats had been in the position since March 16, 2017.
Trump thanked Coats for his "great service to our Country" after making the Ratcliffe announcement.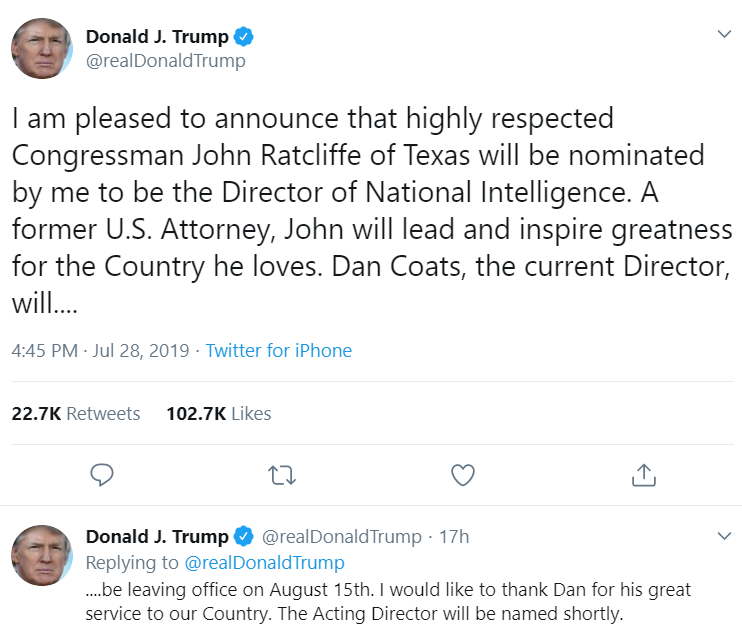 In response, Ratcliffe tweeted his appreciation for "the opportunity to lead our Nation's intelligence community.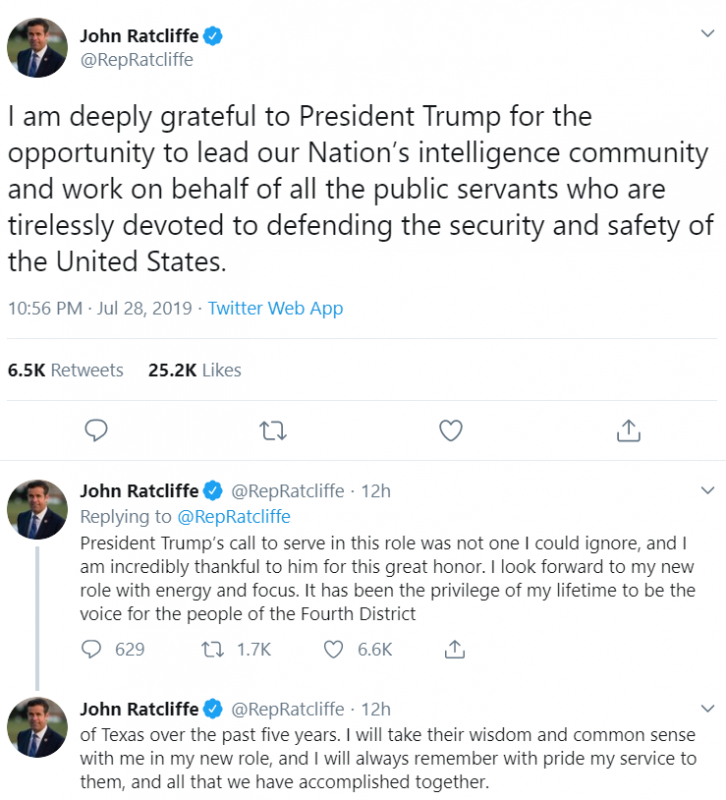 Coats, who will officially step down on August 15, reportedly wrote in his July 28th resignation letter that he is "grateful" to the president for "providing me the opportunity to lead the Intelligence Community," while also writing that "it is time for me to move on to the next chapter in my life."
"I have overseen the selection of new, extremely capable leaders across the IC [Intelligence Community], and within the ODNI [Office of the Director of National Intelligence], have transformed its focus, structure, and integration efforts to ensure you have the best, most timely, and unbiased intelligence possible," Coats wrote, according to Fox News. "As we have previously discussed, I believe it is time for me to move on to the next chapter of my life. Therefore, I hereby submit to you my resignation effective August 15, 2019."
Besides being a member of Congress and making the occasional appearance on Fox News, the public became more aware of Ratcliffe recently following his multiple attempts to question former FBI Special Counsel Robert Mueller last week. During his time last Wednesday, Ratcliffe asserted that Mueller overstepped the bounds of his position that Ratcliffe said should've legally been limited to compiling information to complete the investigation into whether there was any collusion by the Trump campaign with Russian agents.