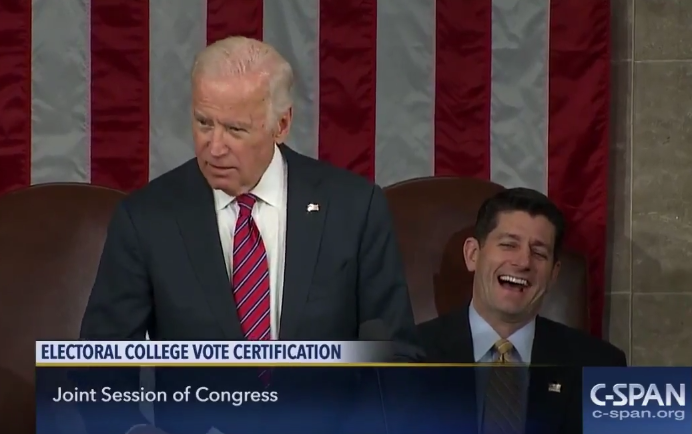 Three simple words: "It is over."
Those were the words spoken by outgoing Vice President Joe Biden to House Democrats who were objecting to President-elect Donald Trump's Electoral College win during a joint session of Congress on Friday.
Biden had to repeatedly gavel down several House Dems on the floor, because as Biden said, "The objection cannot be entertained."
Biden was correct as an objection during a joint session of Congress can't be observed without the signature of a senator.
The Washington Examiner reported:
House members from Florida, Georgia and several other states rose to object but without the sign off from one of their home state senators, Biden rules the protests out of order.

Toward the end of the process, Rep. Maxine Waters, D-Calif., stood and asked if any senator would stand with House members, but none did.
The other members of the House that objected to Trump being confirmed as president through the Electoral College were Reps. Raul Grijalva, D-Ariz., Barbara Lee, D-Calif. and Sheila Jackson Lee, D-Texas.
For video of the Biden shutting down House Dems, watch below:
Thank you for supporting MRCTV! As a tax-deductible, charitable organization, we rely on the support of our readers to keep us running! Keep MRCTV going with your gift here!